Sunday Services for the Eighth Sunday after Trinity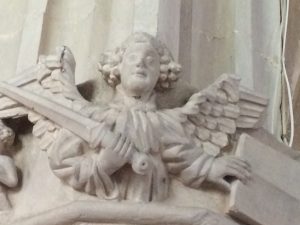 Update on 1 Aug to Pew News of 26th July 2020
We are so pleased to have reintroduced Sunday worship.
8am BCP Communion
10am CW Holy Communion (shortened)
Private prayer on Wednesdays
9-11am including Morning Prayer at 9am.
We need to have pandemic health and safety measures in place which we ask you to please observe.
Face coverings. This week the national church has now made wearing a face covering in church advisable, rather than optional (see www.cofe.anglican.org)
There will be a few disposable and fabric coverings available if you don't have one.
If you don't feel 'quite right' please hold back from coming to church at the moment.
Worship resources. There will continue to be worship resources on this website for use at home but no streamed services on Facebook during August.
Zoom Sunday coffee: we will continue to meet virtually for coffee on Zoom at 11.15am:
Contact Ros Eveleigh on 01258 821049 for details of the meeting
If you are not able to come back to church, do look at the national church website and churches in our deanery for online services.
Summer leave. Revd Gaenor will be taking her summer leave from this Thurs 30th July-Weds 19th August inclusive. Please speak to our churchwardens Stephen or Pat if there is an urgent matter during this time.  Or contact Jannie for prayer requests.
The Sunday services will continue with visiting clergy.
VJ Day Saturday 15th August 11am. The British Legion will be remembering VJ Day at the church memorial with 2 minute silence and some prayers led by ~ The Very Revd John Seaford. Capacity in the churchyard is 30 people with social distancing.
Safari Church Fete Monday 31st August 2pm onwards
As we can't have the Fete in the usual way a church team has been planning for something a bit different but hopefully still a great fundraiser for the church!
There will be tea parties with 5 attendees hosted by volunteers around the village on the day.   People will have to book with the tea host, or via Chris Langhelt if they wish to attend and will pay £5 each.   In addition we plan to run the following stalls based around the Church/Churchyard/ School and elsewhere.
Raffle, books, plants, treasure hunt, cakes, auction of promises/silent auction.   There will also be a village scarecrow competition. £1 per entry. Forms to enter via Ros. Please speak to Ros, Pat or Chris if you can help.
Grapevine
If you were not aware already there is a regular diocesan e-newsletter called Grapevine which you can access via the diocesan website
Sudan Emergency Appeal
The diocesan emergency appeal is for soap and food, soap being everything linked to improved hygiene which is just as important as food in fighting Covid-19.  The link to the Just Giving page is https://bit.ly/sudansemergency.  Please pray for this initiative and give to it if you can.
Prayer requests: While Revd Gaenor is on leave please let Jannie Redman know if you have a prayer request for yourself or on behalf of someone else. Jannie 07711325936 /01258 820503 or jannieredman@gmail.com
If you have anything to add to the Pew News please get in touch with Stephen, Pat or Ros.