Therefore go and make disciples of all nations, baptizing them in the name of the Father and of the Son and of the Holy Spirit, and teaching them to obey everything I have commanded you. And surely I am with you always, to the very end of the age." Matthew 28:19-20 (NIV)

FOR W/B 18TH JULY 2021    
THIS WEEK
Sunday 18th July Trinity 7
8am       Holy Communion 
10am      Parish Communion
1130am  Zoom coffee         
Weds 21st
9am Morning Prayer
7.30pm PCC meets in church.
Any future covid safety changes following the government announcement about Mon 19th July will be reviewed by the PCC 
We will also be co-opting our new Churchwarden Nick Lalor and deputy Churchwarden Sharon Martin
Friday 23rd  
9am -10.30am Coffee, Cake and Company in church. Please speak to Carol Savage for more information.
SATURDAY 24TH  
10.30am Memorial Service for Penny Holden.
2pm Marriage of Emily and Will
LOOKING AHEAD
MONDAY 30TH AUGUST from 2pm Safari Summer Fete returns in the churchyard and afternoon teas in gardens. Volunteers still needed! If you would like to be involved please contact Pat Budden or Chris Langhelt.
SATURDAY 6TH NOVEMBER 4pm Diocesan Confirmation service at Salisbury Cathedral.If you are interested in being confirmed please get in touch with me before end of August.
OTHER NEWS
LATEST GRAPEVINE DIOCESAN NEWS AVAILABLE HERE  https://mailchi.mp/salisbury/this-week-south-sudan-turns-ten?e=f376c6dd6b. I was there at the Zoom clergy day!
PCC TREASURER This important PCC role is still vacant. Please consider for yourself or someone you know locally and speak to Pat, Heidi or me about what is entailed.
THANKFUL FOR THE COVID VACCINE? If you are thankful to have received both doses of vaccine, please consider giving to vaccinaid.org or Give Thanks campaign which seek to ensure every community is supported during the pandemic.
FABRIC TEAM.The PCC would like to invite any one with project management , building renovation or fundraising experience to join a small team to move the church renovation plans forward this coming year 2021/22. Please speak to Pat or me if you are able to give some time to this.
CALLING ALL BELL RINGERS! There are still a few spaces so if you would like to learn or if you have been a bellringer before, Keith would love to build up the team.Please contact him on keith.woodward.2@gmail.com
FOUNDATION GOVERNORS. There are currently still a few vacancies for Foundation Governors at St Greg's School. If you are interested in exploring this role please speak to me or look on the diocesan website https://www.salisbury.anglican.org/resources-library/schools1/governors/pack
OPEN CHURCH With the church now open every day 9am-4.30pm, please come in! We ask you to continue to please observe the covid measures in place that enable this to happen safely.
ENCOURAGEMENT CARDS I still have some hand-made cards by some of the children at St Gregory's School to be distributed to residents of the village who are still housebound. Please ask me for one for your neighbour or friend this week
PRAYER Please let me know if we can pray confidentially for any situation you or a loved one is in at the moment
 gaenor@protonmail.com 01258 821605
FIND US 
facebook@stgregschurch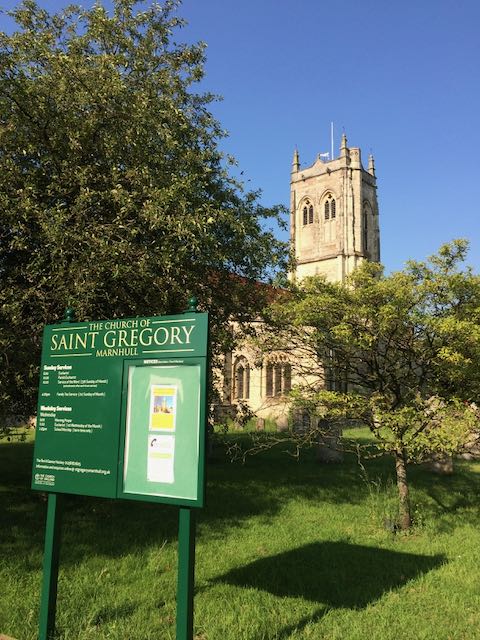 Services & events in July
For regular updates visit Facebook@stgregschurch
Friday 2nd July 
9am-10.30am Coffee, Cake and Company
Sun 4th July Trinity 5
8am Holy Communion (BCP)
10am Parish Communion
11.30am Zoom coffee
4pm Family Tea Service Facebook@ stgregstea
Weds  7th
9am Morning Prayer
11am    Monthly Holy Communion
Friday 9th
9am Coffee, Cake and Company 
12pm Churches Together in Marnhull @ Marnhull Methodist Church
Sunday  11th Trinity 6
 8am Holy Communion (BCP)
10am Parish Communion
11.30am Zoom coffee
Weds 14th 
9am Morning Prayer
Friday 16th 
9am Coffee, Cake and Company
Sunday 18th Trinity 7 Rural Mission Sunday
8am Holy Communion (BCP)
10am Parish Worship
11.30am Zoom coffee
Weds 21st
9am Morning Prayer
Friday 23rd
9am Coffee, Cake and Company
Saturday 24th
10.30am Memorial Service for Penny Holden
2pm   Wedding of Emily and Will
Sunday 25th Trinity 8
8am Holy Communion (BCP)
10am Parish Communion
11.30am Zoom coffee
Weds 28th
9am Morning Prayer
Friday 30th 
9am Coffee, Cake and Company