Revd. Gaenor's Reflections
The reflections for your week
Seventh Sunday after Trinity Sunday 26th July
Kingdom parables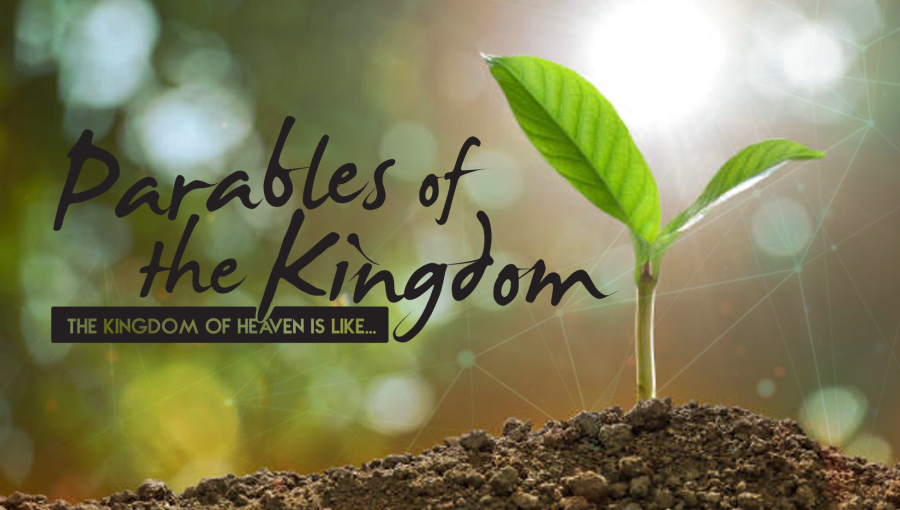 Bible Readings
Genesis 29:15-28
Psalm 105:1-11, 45b
Romans 8:26-end
Matthew 13:31-33,44-52
There is a large beech tree on the village recreation ground which I have come to appreciate on the dog walks. Its branches are large and generous and it has a surety and steadfastness that old trees often have.
As I stand under its summer canopy of leaves it reminds me of the mighty trees of the Bible- like Abraham and the sheltering oaks at Mamre and the huge trees in Ezekiel's prophecy. 
The Psalmist writes 
Blessed is the one…whose delight is in the law of the Lord,
    and who meditates on his law day and night.
That person is like a tree planted by streams of water,
    which yields its fruit in season
and whose leaf does not wither—
    whatever they do prospers.  Psalm 1:1-3
Trees are often associated in the Bible with the provision of God and of course all trees and plants start their life as a seed. But do we consider their growth?
'Mighty oaks from little acorns grow' is a secular phrase that is often used to describe great things starting from very small beginnings.
We have pondered the parables of Jesus in Matthew 13 over the past couple of weeks and in todays's Gospel reading we have a few shorter teaching parables about the nature of the kingdom of God- including one about a tiny seed becoming a great tree.
Kingdom parables
The first pair- the mustard seeds and yeast- remind me about the good soil, the context, for growing the kingdom.
It is about the context for the seeds without the planting, the soil, water and warmth cannot grow into the tree and the yeast without the woman mixing the flour, together with the water and warmth cannot be baked into bread.
The other thing is that both the seed and the yeast make a difference in particular for the growth of the tree and the loaves.
The second pair of parables- the pearl of great price and the treasure in the field-are about seeking something that is of immense value.
The kingdom is something within you which has the power of growth in the seed; something that you are searching for, and of whose values you became more confident and excited as the search proceeds and you discover truer, lovelier things which are constantly being surpassed; something for which you have to give everything you have, no less yet no more, including the earlier finds with which you were once so completely delighted.
George Appleton. 
Do we live as if the kingdom of God has come-or not?
These parables speak of the nature of the kingdom of God and of kingdom faith: the tiny seeds or piece of yeast transforms the context of soil and flour and is transformed itself.
Jesus reminds his hearers that in God's kingdom, the smallest and least significant things are capable of incredible power. Nourished and nurtured, slowly but surely faith grows until suddenly it becomes noticeable.
May be we know someone whose faith has grown and transformed with a lot of potential and feel awed by this?
We should also feel challenged for the seed only grows to a tree if it is nurtured and protected.
If someone with big boots comes along and crushes the little mustard seedling then it will come to nothing.
If the yeast is mixed with boiling water it will die.
So those whose faith is small- whether because of their age or they are a new Christian we need to enable a nurturing environment for their faith to grow to their full potential. 
As St Paul encourages the faithful in Philippi: 
I thank my God every time I remember you. In all my prayers for all of you, I always pray with joy because of your partnership in the gospel from the first day until now, being confident of this, that he who began a good work in you will carry it on to completion until the day of Christ Jesus.
Philippians 1:3-6
The value of the kingdom
The life of faith finds us taking many routes- some more helpful than others- and in the parables of the treasure and pearl there is a sense of delight and discovery. The treasure hunter hides his discovery until he can afford to buy the whole field where it is hidden. And the pearl merchant may have seen numerous specimens over many years before finding the one pearl of great value.
The kingdom of God is also said to be like a treasure that someone finds and hides in a field.Then in his joy he sells all he has and buys that field….That treasure of happiness, the kingdom of heaven, may be called the ultimate dimension of reality. When you see only the waves you might miss the water. But if you are mindful, you will be able to touch the water within the waves as well. Once you are capable of touching the water, you will not mind the coming and going of the waves.You are no longer afraid. You are no longer concerned about the birth and the death of the wave. You are no longer afraid. You are no longer upset about the beginning or the end of the wave, or that the wave is higher or lower, more or less beautiful. You are capable of letting these ideas go because you have already touched the water.
Thich Nhat Hanh (1995)
We live in the kingdom of now and not yet as we pray 'thy kingdom come'.
And as we allow these kingdom parables of Jesus to speak to us today, we are opening ourselves up again to the immense love and power of God. 
We allow Jesus' images of growth, of ordinariness, of treasure and value and of fishing to capture our imaginations and bring us closer to the One who gives us life in all its fullness (John 10:10)
The inclusive kingdom
 This series of parables conclude with the parable of the drag net (one of the modes of fishing at the time and still practiced today in some parts of the world) which tackles what the Church calls salvation for all which is also about our value systems which Matthew's Gospel emphasises.
The drag net itself does not discriminate the good fish from the bad- only on the land is there separation.  As we saw last week it is only God who gives the final judgement, only God who judges who is in and who is out of the kingdom of God.This is not our job in the church.
But what is our job as followers of Christ is to be distinctive, allowing the transformative love of God to change us and in turn for us to change the world around us.  And it starts with a small yes to God.
Kingdom work in progress
In these parables we are remind that any sacrifice is worth making for the kingdom if it means we are accepting God's will for our lives which leads to the seed growing and the bread rising… that we are all a work in progress.
 As St. Paul encourages those in Rome:
Do not conform to the pattern of this world, but be transformed by the renewing of your mind. Then you will be able to test and approve what God's will is—his good, pleasing and perfect will.  Romans 12:2 
So the parables remind us that our kingdom faith cannot be stagnant, it can't stay at the seed or sapling stage forever. It can't be hidden in a field, or at home, or even in our private thoughts. It needs to grow, develop, be transformed and flourish- and that takes time.
As one writer describes it:
God has begun a work in me, I'm told.
I want to believe, but I hope God is better about finishing what he starts than I am. I've got that half-read novel lying around somewhere, and then there's that basket of laundry I've been meaning to fold.
Or for that matter, that online retreat I started…
Actually, what I really need to believe—and on my best days, what I do believe—is that God is not just better at finishing things, but better at beginning them. I may struggle to get up in the morning and find time to pray, but it's not because God is procrastinating about deciding to show up in my life.
God's work in me is in progress, and that calls for patience. But the work is in progress because God has already begun it—and that's reason for hope.
Sam Sawyer SJ
We are reminded again in these parables of the inclusive nature of God and that it is up to each of us to say yes or no. We can include or exclude ourselves from the love of God and from his kingdom. 
Yet the God of trees, of creation, of our productive, incredibly diverse and amazing universe, calls each of us to follow and is heartbroken at every life thrown away.
'Blossom where you are planted' was a phrase on a postcard I had for a long time. It was attributed to Mother Teresa and it reminded me to allow God to water what had been planted in me and recognise the growth in faith and where God had taken me but also to trust that God would use me wherever I was. 
As kingdom people we need to know the context of our faith, that God has called us to be here in Marnhull (or wherever we are) for a reason; that we are called to make sure that we are in the best soil for our growth of faith in Christ through prayer, worship and fellowship and that we realise what our faith means and what value God places on us as we follow Christ day by day.
Let us pray:
Generous God,
you give us gifts and make them grow:
though our faith is small as mustard seed,
make it grow to your glory
and the flourishing of your kingdom;
through Jesus Christ our Lord.
Amen.
(one of the Collects for today)
O God 
You are the seed planter, 
the fish netter, 
the bread baker
And the pearl hunter.
Make us into living parables,
That we may become
Creative and life-giving stewards 
Of the world you have entrusted to our care.
May we be the yes to your kingdom in our world.
Amen. 
(adapted from Roots all age worship material)