Revd. Gaenor's Reflections
The reflections for your week
Second Sunday after Easter
11th April 2021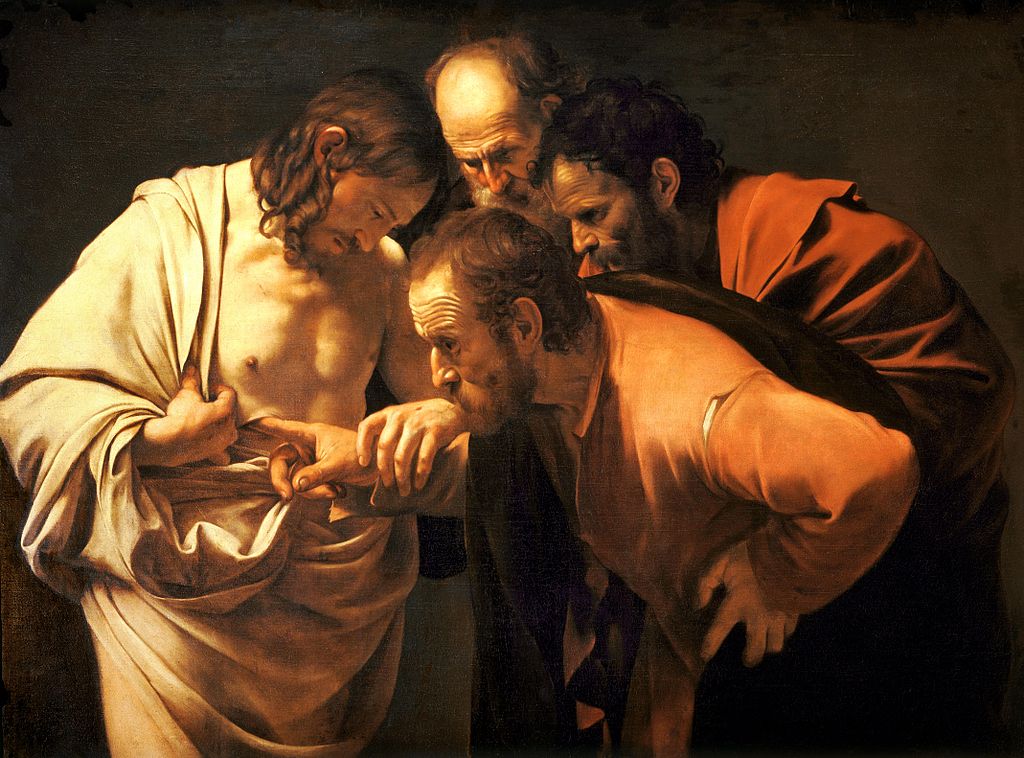 Bible Readings
Exodus 14:10-end; 15:20,21
Acts 4:32-35
John 20:19- end
You never know how much you really believe anything until its truth or falsehood becomes a matter of life and death. It is easy to say you believe a rope to be strong as long as you are merely using it to cord a box. But suppose you had to hang by that rope over a precipice. Wouldn't you then first discover how much you really trusted it? 
C.S. Lewis, A Grief Observed.    
How different this day seems to be from Last Sunday.  One week ago we took part in the Great Festival of our Faith – Easter Sunday and our Celebration of the Resurrection. 
But today – today might seem to be just another Sunday, except we are mourning the death of the Queen's consort and husband, HRH Prince Philip.
And since the announcement on Friday 9th April there have been many tributes given to his very long and active life- not least from his own immediate family.
And for some the announcement may have resonated with their own recent grief and bereavement.
It may well feel as though we are right back where we were before Easter – fighting familiar frustrations and bearing well- known burdens, as if Easter had never occurred.
That is precisely why- and in the situation of national time of mourning for the Duke of Edinburgh-that we need to grasp again the message of this the Second Sunday of Easter, the message concerning how the Risen Christ gave new life to the disciples, how he gave them the Holy Spirit and energized them and gave them confidence, how he made them into people who were filled with belief, peace and power.
And I think it is also important for us to understand just what the disciples were like after the first Easter Sunday.
We know that the first generation of Christians did not hesitate to preach the good news of Christ's resurrection.  They knew what they had seen, and they knew God had sent them to tell others what he had done in Christ – and they did this with conviction and courage – so much so that  they converted thousands of people to the new faith.
But it wasn't always the case.
At first, after the resurrection,  the disciples were scared, they were afraid, and when they met together, they met behind closed doors 
          – behind doors that were locked, so the Bible tells us, because they feared the authorities; because they were afraid that what had happened to Jesus might happen to them.
Yes they knew already that Jesus was risen –
     the women had told them about the empty tomb,
     and about encountering Jesus in the garden,
     and they had, over the previous years, witnessed many great miracles performed by Jesus.
But after the events of Good Friday and even after Easter Day, they were powerless people, huddled together in fear.
Their frail faith could not be made formidable simply by declaring, "We have seen the Lord" and Jesus knew that.  
So he did something else. When he appeared to them, he not only blessed them, saying "Peace be with you".
He not only told them "As the Father has sent me, so I send you"
He also breathed on them – he said "Receive the Holy Spirit"
And by his very presence – by his command – by the breath of life in him, he gave the breath of life to them.
But what does this say to us as we worship in the 21st century?
We are like the disciples
We too may sometimes have the feeling of hopelessness of those people who huddled in the upper room until the Spirit came to them.  
And, like the first disciples before the Spirit came, we too are often fearful, because the whole matter of God, and of heaven, and of resurrection just seems a little too much to believe in-
in a world of multi-culturalism, global communication, myth-debunking and cynicism. 
What- we may think- has the Church got to offer a secular world that seems in some ways to have it all wrapped up?
So in a fundamental sense, we may be no different than the first disciples later on the first Easter day. We have absolutely nothing going for us that the world does not have going for it except for one thing — The Risen Christ and the Spirit he gives us.
And that is the point of today's Gospel reading, because it is the account of how the risen Christ pushed open the bolted door of a 'church' with absolutely nothing, of how the risen Christ enters the fearful rooms of every church, of every believer, and fills the place and person with his own risen life.
The church is filled with the life of Jesus
If any church, however seemingly successful, draws only on its own resources, it is nothing but a gathering of people.
Apart from the Risen Christ the church-its building and its people- is an empty place since its meaning and purpose are not there.
Apart from the Holy Spirit that Jesus breathes upon us, we are hollow vessels – with nothing to offer – nothing of eternal significance to share and are no different in the end than any social agency or leisure club.
The power that transformed the first disciples from being fearful and powerless people to men and women who were unafraid to speak to crowds of thousands,  unafraid to testify before the very authorities who crucified their Lord, willing to travel vast distances and endure stoning, imprisonment and martyrdom and able to convince men, women and children that something important hinged on their acceptance of their message concerning the person of Jesus Christ, was the same power granted by the one in whom we also believe.
And the power that Jesus gave to them in that locked room, when he breathed the Holy Spirit upon them – and then again poured out that Spirit upon all believers on the day of Pentecost is the same power within us who believe.
As St Paul writes in Romans 8:11:
And if the Spirit of him who raised Jesus from the dead is living in you, he who raised Christ from the dead will also give life to your mortal bodies because of his Spirit who lives in you.
What evidence of the risen life of Christ is there in our lives?
Our lives begin to end the day we become silent about the things that matter,    Martin Luther King
The power and life of Christ through the Holy Spirit enabled the previously fearful disciples to be bold and speak, live and love the Gospel message and the Church began to be formed.
In our own lives we need to give evidence to the power of Christ within us, to be aware of the temptation to be silent about the things that matter to us.
Prince Philip was a person who spoke out about things that mattered to him- the environment and young people being just two examples- and we can learn from his example and legacy to the next generation.
3. We can live without fear in the risen presence of Jesus
So today I invite us to ask ourselves: do we worship God out of faith or fear? 
Are we people who have believed in God, but in bitterness and in grief have gazed upon what seems to be only his death and not his resurrection?
Have we locked the doors to our hearts, afraid of experiencing one more pain, one more disappointment but also closing ourselves from the immense love, grace and mercy that flow from God?
Maybe we have all but given up hope as we have had our patience tested to its limits through the pandemic?
Christian bishop and theologian Tertullian (155-240 AD) famously said: Hope is patience with the lamp lit.
So as we gather to worship, are we actively seeking God?
Are we patiently, diligently seeking to understand what it is that God is about, what hope is about and what the risen life of Christ is about?
Are we open to the experience of Christ suddenly standing among us, hearing his word to US- 'peace be with you'-and feeling his breath touch us and fill us?
The reality of Easter is that the Risen Christ is still with us.
He has not forsaken us.
Trust him.  Give thanks to him – knowing that as he has risen to new life so he is here to bring new life to us all.
He is here -and he will bring that life even though there may be locked doors in his way.
May we open the gates and doors of our lives to the peace and joy of Christ.
And even in the midst of the fragility of human life, in the midst of sadness, pain and death let us be confident- in every situation- in whom we believe: the risen Lord Jesus Christ.
Let us pray:
Lord Jesus Christ
risen from the tomb
your immense love is let loose in the world;
let your love conquer my heart and life,
that I may too become one of your disciples 
and follow you forever.
Amen