A special connection for the Diocese
Christian Care for families
Salisbury Diocese has special links with Sudan and South Sudan
COVID affecting work of the MU Salisbury-Sudans Link
The impact of COVID-19 has hit charities especially hard. The Salisbury- Sudans Link is no exception and we desperately need your help to allow us to keep funding all the crucial work we support.
As well as your generous regular and individual donations, we are able to match this with successful fundraising events such as the Bishop's Garden Party and the Chase Benefice Christmas Fair and from collections at ordinations and ministry licensing – Covid -19 prevented these opportunities.
As a result, with severely reduced funds, we have been unable to send all the grants and support that our sisters and brothers in the Sudans have come to rely on.
Would you be willing to help us make up the difference?
Even a slight in increase in your regular giving, or a commitment to give each month, would make a vast difference and help us support those who really need our help.
A meal out costs us about £20 per person, something we mostly haven't been able enjoy in the past year, and which a Sudanese person will never enjoy. Could you donate the cost of a meal out monthly to support our work?
Or maybe you had planned a holiday or another event that got cancelled due to Covid and some those funds could go to saving a life in the Sudans?
The needs are so great in our partner churches and, although we always keep them in our prayers, our sisters and brothers in the world's poorest countries ask why we have no money at all to spare to help them.
What can't we do without your help…..
A £5,000 grant each year to four Theological Colleges, one of which is the only College in the world that teaches Christian ministry students in Arabic pays for staff. This year we had to halve our donation and probably their salaries as a result.

Every year we send consignments to primary healthcare medicines to church-run clinics in South Sudan. These enable the clinical officers and nurses to treat malaria, bacterial and parasitic infections, burns and wounds, and a range of other conditions and to alleviate pain. Medicines were sent in 2020, but we have had to tell the clinics that at present we cannot send any more consignments until we have the money to pay for them. Imagine the feelings of the clinic staff as they have to turn people away without treatment.

We pay training fees for clinical officers, nurses, midwives and technicians, adding to the workforce of professionals who can give high quality care to those suffering and to mothers giving birth. We have had to tell one College that we cannot pay the second-year fees for some of the students we agreed to sponsor, without those funds the students may not be able to complete their training.

What we could do with your donation ……
Ensure the health professionals we train have the clinical resources to help their patients.

Help the churches in Sudan and South Sudan to produce more well- trained clergy to serve and lead their congregations.

Give grants where needed to improve the skills of teachers, provide basic facilities for schools and increase the number of children receiving education.

More about our work

Visit our webpages. Click The Sudans Link — Diocese of Salisbury (anglican.org) or 'Google' Salisbury Sudan Link
What regular giving has already allowed us to do ….
Lavina's Story – Changing one person's life can change many
Lavina received a bursary, one of a number awarded by the Headmaster to children from poor families in Juba. Her bursary was paid for through a donation by a doctor in the UK. She was a diligent student, passing her School Certificate with high grades and going on to study at university in Cairo, where she graduated in nursing. Following the death of her mother, Lavina returned to Juba to look after her family and to work at the Juba Medical Clinic, where currently some Covid-19 patients are being treated. Lavina volunteered to work for a Christian charity called 'Samaritan's Purse' in a hospital in the north of South Sudan. Before leaving Juba to go there Lavina herself caught Covid-19. With the help of Samaritan's Purse she recovered and duly went north to serve her Lord. Recently she has returned to a town near Juba to be closer to her family and is working for another charity called 'HealthCare' in the operating theatre of their hospital.
If you commit to a regular donation we can guarantee our help to those in need.
If you are willing to increase your giving then we can plan for future generosity and we won't be reliant on good weather or good health to offer the opportunity for a fundraiser.
How to donate
Return the enclosed Standing Order form or any other cheque donations
to Sudan Link Treasurer, Church House, Crane Street, Salisbury, SP1 2QB. Explain whether it is for the 'Sudans Link General Fund' or 'Sudans Medical Link'.
Donate online – Click this link: CAF Online and search for 'Sudan Medical Link' of the Salisbury Diocesan Board of Finance.
Via your online banking – Set up a standing order or donation using the details on the Standing order form. Then send your Gift Aid form by post to the Diocese.
Donate by post – Send your cheque to the Sudan Link Treasurer, Church House, Crane Street, Salisbury, SP1 2QB. Please say whether it is for the 'Sudans Link General Fund' or 'Sudans Medical Link'. If you can Gift Aid
your donation please include the Gift Aid portion of the Standing Order Form.
Thank you – we can assure you that the Salisbury-Sudans Link Committee will use your donations where they are most needed, and ensure they are spent carefully and wisely.
DATA PROTECTION If have any queries about use of your data or wish to be removed from the mailing list please contact Anne Powell, Sudan Bulletin Editor, sudanbulletin@outlook.com Tel 01258 861397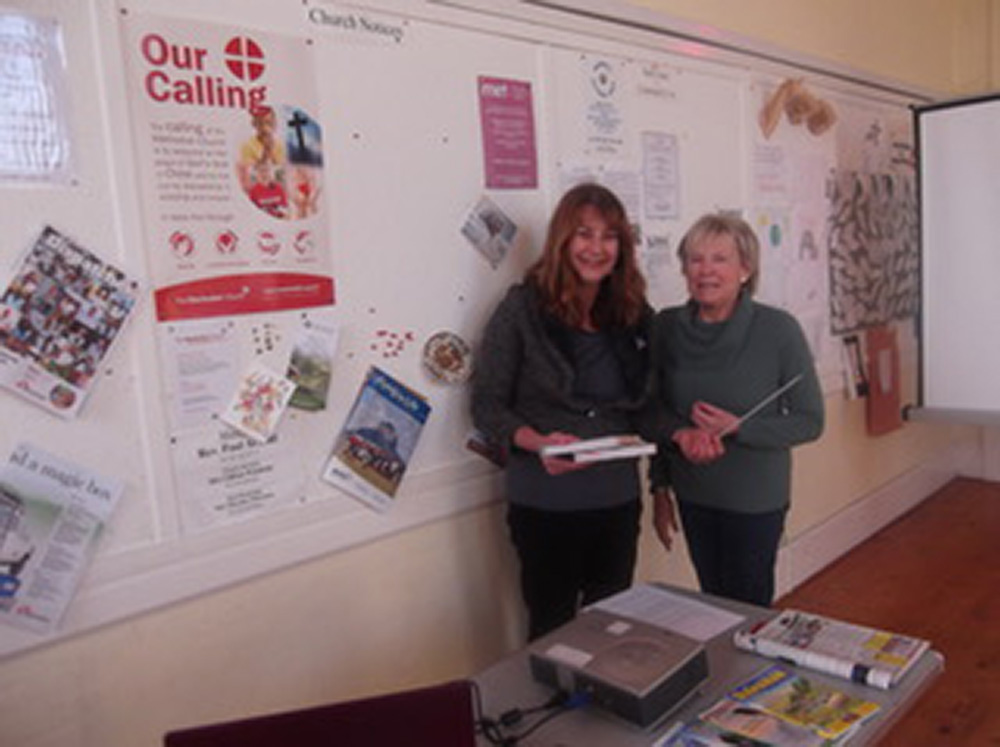 Mrs Simkins of Blackmore Vale Magazine fame talks to the Marnhull MU about the stories behind her recipes.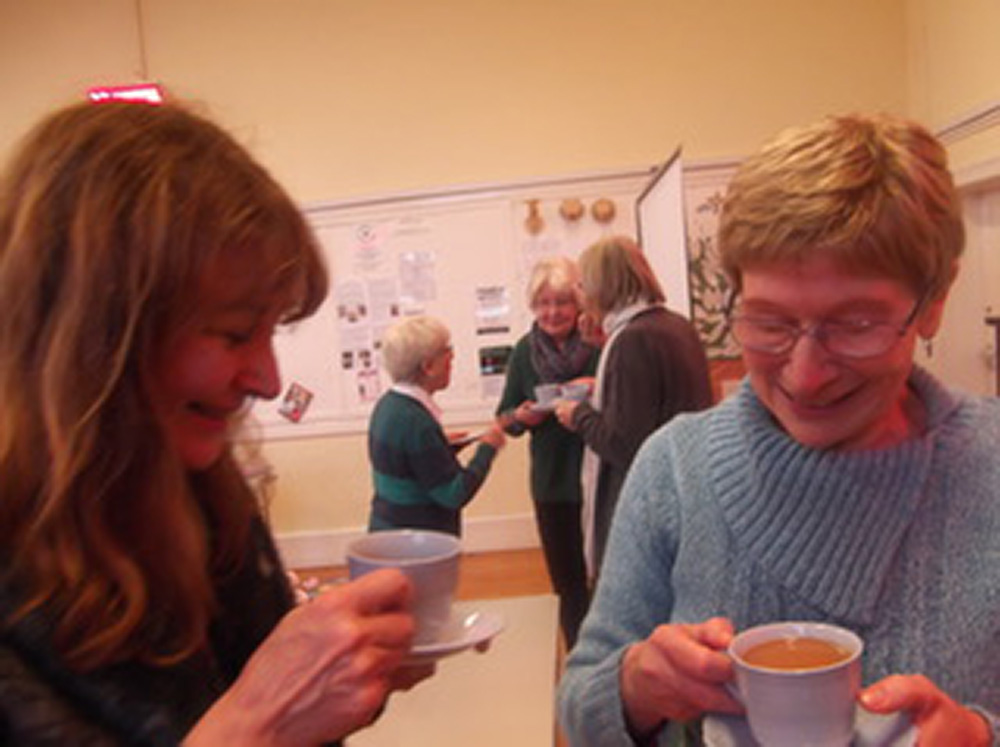 Members enjoy tea and chat at our meetings.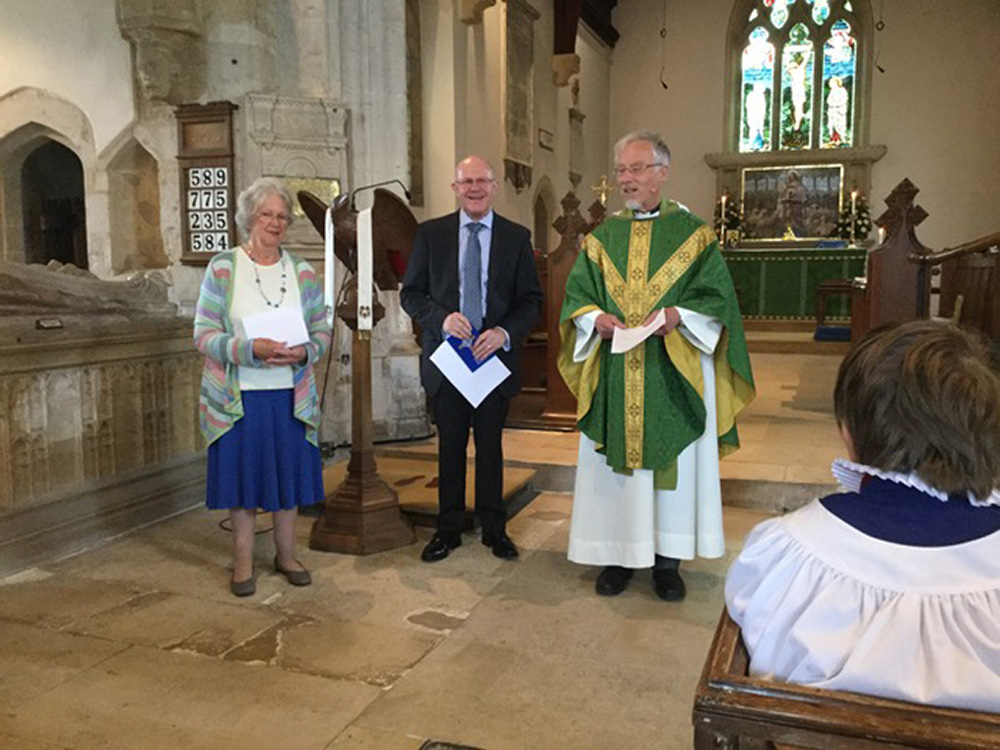 New members are welcomed to the Mothers' Union
Latest deanery reports on their Sudan and South Sudan Links
May 2021
Reports from our Deaneries on their Sudan and South Sudan Links.
We are glad to be able to share news and reports of Deaneries in the Salisbury Diocese in lieu of Deanery Links Day, May 2021. Thank you for taking time to write and to read the news.
With prayers and every blessing
Revd Canon Ian Woodward and the Sudans Link Committees.
1. St Mark's Salisbury, from Morris Munns
As you know our current position is that we continue to take an interest in Yei. The Parish gives a proportion of our tithed 'mission partners' money to BATC channelled through CMSI and we pray for the Principal and students. We have recently had a video report from Rev. Emmanuel Lokosang
https://www.youtube.com/watch?v=pMVq2aR3S4E&t=13s
. Bp. Hilary has now retired and there is to be a synod about now to designate his successor. Covid has very much affected the life of the churches and wider communities and this has had a particular impact upon the school that individuals support, Immanuel Kindergarten. You may have seen in Grapevine that Carolyn Murray has been raising funds (letter attached) to help students raise awareness, avoid exploitation and maintain safe contacts. The Technical College in Yei was reopened for a time after the visit of Billy Smyth from CMSI.
2. Lyme Bay, from David Baldwin
During the last twelve months it has been difficult to keep in regular contact with Bishop Matthew Peter Taban in Wonduruba but I am starting to make a concerted effort to email more regularly going forward. On the agenda for our next Deanery Synod is another attempt to form a deanery support group to share in our desire to formally link.
3. Milton & Blandford, from Ian Bromilow
We have had no real contact with Rokon – apart from social emails. Bishop Francis has been ill but now recovering, and he is the driving force.
However we did give a donation to St Joseph's school to help with teacher salaries and a donation to cover Bishop Francis' medical care.
4. Heytesbury, from Eva Burton
Heytesbury Deanery has almost monthly contact with Maridi – even in lockdown! Jane Shaw and Bishop Moses email regularly about life and prayer needs in Maridi and how we're able to help with prayers and funding. There was a Mothers' Union Conference, a General Synod Meeting and Ordinand Training. In August and September 2020 there was risk of famine and disastrous floods which caused real hardship as well as the constant ongoing conflict in South Sudan. Bishop Moses had arranged a Missions Week in Maridi even though there was risk due to Covid 19.
In November 2020 Lynn Treneary CMS Missionary returned to Maridi after the lockdowns and became General Assistant to Bishop Moses and is a deacon in Maridi Cathedral. In December 2020 Heytesbury Deanery sent out £1000 to Chaima Christian Institute which paid staff salaries and student fees. Students had completed the semester and taken exams before returning home for Christmas. In January 2021 we received an invitation to visit Maridi in January 2022 to celebrate the Centenary of the Gospel in Maridi and some of us are hoping to attend.
In February 2021 we were able to send out £3000 to Maridi – £2500 for Chaima and £500 for ordination costs. Sadly Lynn had to return to UK with health issues. Also in February wildfires devastated villages in and around Maridi and Bishop Moses mailed us details of the horrific results of this. In March 2021 we were able to send out emergency money for the aftermath of this devastation – $2427 – and Bishop Moses mailed photos of the relief aid arriving and being distributed. Our Heytesbury Deanery Leaflet has been updated and we can mail a copy on request. In April 2021 a storm blew off the roof of a classroom block at Chaima, and we were able to send $4,000 to help with repairs – which have now started.
5. Wareham parish (Purbeck Deanery) from Mike Quinlan
We support St Stephen's School, Diocese of Terekeka, Central Equatoria Internal Province, South Sudan – Linked to Wareham Parish
We have been keeping in touch with Bishop Paul Modi by email and Facebook over the last six months. As with most schools in South Sudan, St Stephen's School has been closed due to lockdowns, but we recently received the following report from Bishop Paul: 'I want to inform you that 101 candidates from St Stephen Primary sat for P 8 exams and 41 candidates sat today (22nd March) for Secondary certificate exams for the first time, this is a credit to you all in Wareham.' Bishop Paul ordained 16 deacons and 10 priests in October (14 women and 12 men), has started a two-year diploma programme in Theology in the diocese and has also been involved with successful peace talks in the cattle camp in Terekeka. The parish of Wareham is continuing to provide support through prayer and giving from our mission funds.
6. Blackmore Vale Deanery, from Anne Powell
This is the report for Blackmore Vale link with the Diocese of Lui. We pray for our link Diocese but we were really pinning our hopes on the Lambeth Conference visit to reinvigorate our link when people in the Deanery could meet Archbishop Stephen and his wife and hear at first-hand about our partner Diocese. I personally keep in touch with the Bishop's wife who is in Uganda. Lui Diocese itself has been enjoying a period of relative peace and the church seems to be in good heart, organising conferences and mission initiatives. We have had more communication from ++Stephen recently than in a long time before. He has asked us to support a project to install FM radio in Lui to run a church radio station. We are consulting our parishes about whether they feel they can do any fundraising, but we have to recognise that many or most of the parishes are facing financial challenges due to COVID. The appeal for funds for both Sudans for COVID support was widely publicised in our Deanery and had a good response, I believe.
7. Pewsey Deanery and St. Timothy Foundation, from Mike Mason
What a strange, and for fundraising a very difficult, year.
Of course, the need for our funds hasn't been on hold – our teachers (mostly from Uganda) couldn't get back to their homes and, as in this country, still needed to be paid. Our two student teachers were marooned in Kampala, their rent and subsistence still had to be funded, indeed we needed to provide additional funding and computers as they overstayed the expected rental period because of travel bans and need for computers as their course went on line…… and so it goes on!
On a positive note, we in the Vale of Pewsey team held an Advent Appeal and received a wonderful response that effectively replaced our normal fundraising events, for which we gratefully thank our Lord for His wonderful influence in our Team.
On a sadly more negative note, three grant applications have been turned down, one of which was to support Aqua-Africa in providing a clean water supply within Nzara including our school St Timothy`s. This involved a borehole, tower, solar power pump and pipelines to taps around the community including our school. It is hoped that Rotary International will cover the full cost without our contribution.
Other than the above we keep planning our events for when it's safe to do so.
8. Bradford Deanery, from John Joy:
There are three principal themes to Bradford Deanery's relationship with Kadugli Diocese in the past year: Rooted in Jesus, Peace Primary School, and Prayer.
Rooted in Jesus is a course designed especially for Africa to encourage local Christians to develop a strong and effective faith in Jesus and to begin to minister in their turn to others. At the invitation of Assistant Bishop Hassan, in October 2019 a group from the deanery took this course to Kadugli and introduced it at a conference there. The course requires groups to be established in the local churches so people can meet together to study and discuss it and to begin to implement it.
The immediate effect of the conference was to encourage the church, since Christians had felt isolated from other parts of the body of Christ during the long civil war, and during the following months we heard that a few people had turned to Jesus from Islam. It was in the rolling out of the Rooted in Jesus course, however, that we heard of the greatest effect, with over twenty people turning to Jesus and being baptised, including several prominent people in the area. This in its turn has brought encouragement to the church there. It is important to note part of the diocese has been controlled by "rebels", and this has meant the military have also been present and travel has been restricted, so the work of the local churches in spreading the good news has been somewhat restricted, though this may be easing. This link provides more detailed information:
https://rootedinjesus.blog/
.
Peace Primary School has been several years in building, with funds provided by both Salisbury Diocese and Bradford Deanery, but at last opened at the beginning of this year. It has been a spectacular success, and there is talk of expanding it. So far the only concrete proposals are to build a kindergarten unit, and the deanery is supporting this, but we look forward to the school growing in numbers, in reputation, in excellence and in influence.
Distance necessarily limits face to face contact, and to this has been added the unwanted complication of Covid-19. Communication has therefore had to be by electronic means, and we have used this extensively, in the maintenance of personal friendships and exchange of information. Thus besides news of Peace Primary School and Rooted in Jesus we have learned of outbreaks of violence, and the impact of the floating of Sudan's currency, and we have shared information about the pandemic. This last is of interest not only because we learned that Sudan has a far lower incidence of Covid-19 than we do, but we pray for each other about it. For the record, Kadugli has no cases, and our part of Wiltshire appears to be doing far better than the UK as a whole; you can draw your own conclusions.
Covid-19 has not prevented fundraising. Apart from some regular giving, there has also been a remarkably successful takeaway cream tea, a sponsored walk, and church giving. These have contributed to relief for the victims of an outbreak of violence and the payment of salaries for teachers and the payment of school fees for members of the poorest families.
We encourage prayer in this country by means of a prayer diary. This would be a dry exercise without providing news of what is happening, so the prayer diary is part of a regular newsletter. By courtesy of our friends in Kadugli, we have been able to illustrate the newsletter with pictures.
And what of the future? The world will not be permanently frozen by Covid-19, and we shall need to plan for when travel is eased. We know too that the world, and Kadugli in particular, will not stand still, and there is much work to be done, of which the Peace School kindergarten is only one item. But our relationship with Kadugli must be nurtured, to become increasingly one of supporting each other as the body of Christ.
9. CRESS, from Caroline Lamb
See attached summary of CRESS's work. See also their Annual Report for 2020, which showed just how much had been achieved in 2020 despite the lock-down and COVID: an increase in donations of 18% meaning that a minimum of 45,000 South Sudanese Refugees and impoverished Ugandans were directly touched by CRESS in some way. But also, CRESS experienced a funding crisis earlier this year, when by 25th of March there was only enough money for about 6 more weeks, to pay the 30+ staff their salaries. CRESS was urged by Bishop Joseph Aba on four occasions to trust God, and not plan for reductions. And on 31st March enough money came in to cover their needs.
10. St Thomas', Salisbury, link with Episcopal University, from Bertie Ledingham
A strange year indeed. However, it has given us time to look carefully at all aspects of our charitable giving throughout the year.
We remain committed to a 5-year support plan for the Episcopal University of South Sudan.
We were fortunate to have Rev'd Joseph Bilal, the Acting Vice Chancellor of the Episcopal University of South Sudan who recorded a talk for us which was used in our sermon slot of Sunday 28th February's online 10.15am service.
He spoke of his thanks to all at St Thomas's for the spirit of love, support and care that we, as a congregation, are showing to the University. The money that we are sending over 5 years has been a lifeline to them in their mission to establish a Higher Education Institute in a country devastated by decades of civil conflict. Our action of love has helped them to stand firm in love and happiness as they progress to create the 5 campuses, the infrastructure and the curricula needed for the Diplomas and Degrees they aim to provide. Due to the Covid 19 restrictions some students are now receiving their education via Zoom lectures, but this depends on the internet facilities available at both the university and the students' homes.
He said that the recent civil conflict has created a 'poverty of mind' and that they are aiming to train and educate leaders for South Sudan, Africa and the world. He is hoping that the current peace process will hold firm so that they can continue the development progress.
Most of all he wanted to express his thanks for the love that we have shown to them and to ask for our continued prayers for them and their work, as they also pray for us.
11. Poole, link with Wau, from Jeffery Neagle
As one would imagine as this period coincides almost exactly with Covid lockdowns the work of Poole-Wau Partnership was affected in some respects. We nevertheless managed our way through the year and maintained most of our activities.
We have had five trustee meetings including one face to face one in the garden last September – the others have been via zoom. We have also maintained monthly prayer meetings via zoom throughout the period. These have been particularly good as we get more people coming on zoom than we had in face to face meetings. We held the fundraising Holes Bay Walk over the period of a week in June 2020 rather than on one specific day. Walkers could choose when they wanted to do the walk and simply told their sponsors when they had finished it. Amazingly this raised more than the walk usually does with over £3500 donated. The annual garden party held to support female students at St John's raised £200 even though it was not held!
With our regular giving from Poole churches and individuals holding up well we were able to send our annual donation for running St John's Theological faculty. This comprised £8500 in June and the same figure in December. In addition we have sent funds during the year on behalf of specific donors for particular purposes totalling £9360.
Sadly, our excellent treasurer since 2014 decided to leave us and after some difficulty in finding a replacement we have had a new treasurer since January 2021. Our online donation platform decided to close down and so one of his first jobs has been to select and register us for a new donation platform, not as simple a job as it might seem.
On the communications front we have been able to maintain emails and Facebook messaging with Archbishop Moses and others in Wau so we don't feel out of touch with our friends there. Our communications team has expanded with Mark Rathbone joining Richard Tazewell and between them they have continued to produce excellent Newsletters which have been circulated quarterly among all the Poole churches.
12. Wimborne, from Sheila Soper
I have regular emails/messages that tell me that the pastors in Yambio are working hard, blessing marriages and taking part in workshops.
Pastor John Martin from Yambio has asked for financial assistance to work with the youth in the diocese and this is being headed up by Revd Peter Breckwoldt.
Fortunately they are currently low with Covid but they are always needing money for salt and soap etc. There is no word from Nzara.
I hear daily from displaced people who are now living in Kampala. They are struggling for food etc. but the Mothers' Union have a grinder and are grinding beans to sell and give to those who are needy.
13. Sherborne from Andrew Tomkins
It is absolutely wonderful to bring the good news of successful surgery – from Nancy Zawo, wife of Bishop John. Many individuals and churches in Sherborne Deanery contributed to the medical costs of her treatment in Kampala, Uganda. Nancy was seriously ill with kidney failure; she has now had excellent surgery and has been leading outreach missions among South Sudanese refugees in Kampala. Nancy is now back in Ezo. Nancy was further injured when the vehicle she was travelling back to Ezo in rolled 3 times and was a "write-off"! I spoke with Nancy recently. She is recovering well but slowly and sends her deep appreciation for prayers and support from many in Sherborne Deanery.
School feeding project at Ezo Church Primary School: Sadly, all schools in Ezo are still closed in an effort to reduce the spread of Covid. This has caused enormous problems for the children and parents as very few families have internet. However, Bishop John tells me that he anticipates the government will allow the schools to open again in the next few weeks. Work has started on building a secure Food Store (to safely store the food to be donated by the World Food Programme) and a Kitchen (for the volunteer cooks to prepare food for the children). This work has only been possible because of the donations sent as a result of the Ezo 2020 Christmas Appeal. Bishop John says – on behalf of the children and parents – "Thank You so much – this will make a massive difference to their learning as many children come to school without any breakfast".
Links with the recently launched "Anglican Health and Community Network": There are many, hitherto unexploited, opportunities for Anglican Churches worldwide to become a trusted source of information for the promotion of health and healthcare, including the uptake of Covid vaccines. I have been working to help establish this new network – headed up by Bishop Michael Beasley, of Hertford, who was once an epidemiologist in my research team! Bishop John, with many others overseas, is being supported by the network which aims to produce evidence based information for dissemination in locally appropriate formats.
https://anglicanalliance.org/the-anglican-communion…/
.
14. Chalke, from Geoffrey Taylor
• Last visit in October/November 2019 by Revd Mark Hayter and Dr Sherwood Elcock to support annual clergy conference and monitor projects
• 2020 Project Support 1: funded repairs to classroom walls and roofing of Cueibet Primary School.
• 2020 Project Support 2: funded new security fence for Diocesan Compound in Cueibet. Completion has been delayed by coronavirus – difficulty in obtaining materials and increased costs.
• 2020 Project Support 3: funded purchase of coronavirus PPE before +Nicholas appeal launched
• 2021 Project Support 4: funded 2 treadle sewing machines for the MU
• 2021 Project Support 5: funded the printing of Bishop Elijah's translation into Dinka of the new ECSS Common Worship services. This is to be trialled in the Eastern Bahr El Ghazal Internal Province.
• New 2020/21 Project: provide chairs and desks for primary school – currently have to bring own plastic chairs or carry benches over from the cathedral!
15. "Projects Delivering Hope" (working with Kajo-Keji refugees in Ugandan camps) from Adrian Burholt
In July 2019 we took a team of business people to Morobi Refugee Camp to train 80 delegates from the local business community including welders, builders, caterers, mobile phone chargers and nut oil producers to name a few! 9 savings groups have since formed with over 240 members and to date, £4,600 has been saved with over £2,000 provided in loans to help local businesses thrive.
We have been able to provide £8,500 to buy seeds and hand tools to help the South Sudanese refugees become self-sufficient again as many of them return home. We are providing families with seeds to grow Beans, Nuts, Cassava and Maize so that they can plant them in time for the 2021 rainfall.
We also want to raise funds for solar panels to harness energy from the sun – the only source of power to allow Kajo Keji College to operate its electrical systems.
16. Stonehenge, from Janet Darg-Forsyth
Personal contact has been maintained with Bishop Wilson, but it is not thought that there has been any activity within the Deanery.